Although they are the same species, Super Carnotaurus and Super Ace have different cards and stats.
Statistics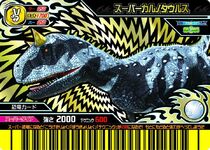 Like all Super Dinosaurs, it was only available in the Japanese arcade.
Trivia
It is the second Super Dinosaur available in Japanese McDonald Happy Set Meal Edition.
Along with Super Altirhinus, Edmontonia, Diceratops, Camarasaurus, Alioramus, Chomp, Ace, Paris, Terry, Spiny, and Tank, it is one of the third round Super Dinosaurs released.
It is instead called "Awakened Carnotaurus" in the DS Game.
Gallery