Blizzard Smash is a Secret Move Card.
Statistics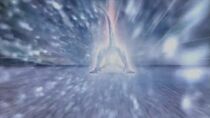 Attribute: Secret
Sign: Scissors
Owner: Seth
Used By: Cryolophosaurus
Effect: Freeze your opponents with an icy blast, then ram them!
Other: Like all Secret Moves, it has no actual card. In the arcade game, simply swipe a Scissors Normal Move Card listing any recommended Technique to access this Move.
Trivia
This Move never actually defeated a dinosaur, but it did freeze them in a glacier, effectively taking them out of the battle.
Gallery