Banana Surprise (also called Surprised Banana) is a Normal Move Card.
Statistics
Edit
Arcade Stats
Edit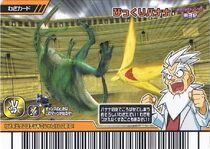 Attribute: Normal
Sign: Scissors
Usage Condition: You have to win with Scissors to use this Move.
Effect: An Actroid walks out with a huge banana peel and throws it at your opponent's feet. Confused, they step forward, slip on the banana peel, and flip back onto their head!
It was only available in the Japanese version.
TCG Stats
Edit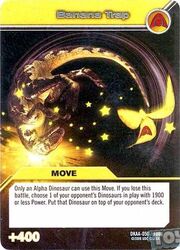 Name: Banana Trap
Attribute: Alpha (Normal)
Sign: None
Card Code: DKAA-050/100
Card Rarity: Silver Rare
Image From: Geki 2nd+ arcade card
+400; Only an Alpha Dinosaur can use this Move. If you lose this battle, choose 1 of your opponent's Dinosaurs in play with 1900 or less Power. Put that Dinosaur on top of your opponent's deck.
When the onscreen text is untranslated, it can seem as if the dinosaur doesn't see the banana peel instead of being confused by its presence and purpose.
Community content is available under
CC-BY-SA
unless otherwise noted.