Attack Burst is a Normal Move Card, but is a Lightning Super Move in the TCG. It is not to be confused with the very similar Move, Attack Boost.
Statistics
Edit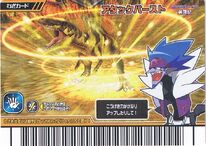 It was only available in the Japanese arcade.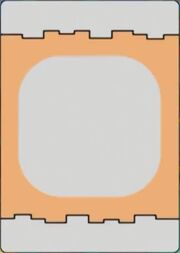 Attribute: Normal
Owner: Gabbro (Space Pirates)
Used By: Achelousaurus
First Appearance: Monk in the Middle
Used to Defeat: None
Effect: Surge yourself full of energy, create a sandstorm to blind your opponent, knock them into the air, blast them with elemental energy, then jump up, hit them, and smash them into the ground!
Other: Gabbro used it for his Achelousaurus against Chomp, where the attack featured excessive amounts of lighting despite not being a Super Move, and nearly defeated him.
Attribute: Lightning
Card Code: DKTA-058/100
Card Rarity: Silver Rare
Effect:
+600; If a Spectral Armor Dinosaur uses this Move and you win this battle, your opponent can't attack or Dino Slash any Dinosaurs for the rest of the turn.
If a Spectral Armor Dinosaur uses this Move and you lose this battle, you can return that Spectral Armor Dinosaur to your hand.
In the arcade game, "Attack Boost" and "Attack Burst" are different cards, but the only difference is that Attack Burst is a stronger version that only activates after you win against your opponent's critical move.
The only true way to tell them apart is by looking at their Japanese names: the last character of "Attack Boost" looks like a curved "7" with a degree sign (°) attached to the top right corner; the third to last character of "Attack Burst" is a long dash (—).
While also featuring Attack Boost as a Normal Move, the TCG includes Attack Burst as a Lightning Move, likely due to the fact that when Achelousaurus used it, its effect stressed heavily on the dinosaur's natural Lightning Attribute.
Artwork from one of its various arcade cards is also seen on the TCG Move Card Supernova (Geki 1st).
This Move can only be used twice for a Dinosaur. This mechanic is similar to other stat buff Moves like Attack Boost, Leaellyn Cure, Defense Boost/Burst, Technique Boost, and Elemental Power.
Community content is available under
CC-BY-SA
unless otherwise noted.