Popularly thought of as the first true bird, it may in fact only be a primitive nonavian feathered dinosaur. In any case, it was incapable of flapping flight and would likely have only been a glider. In 2011, studies showed that Archaeopteryx's feathers were black and white.
General Statistics
Edit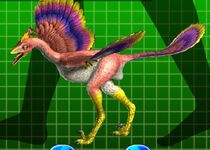 Name: Archaeopteryx lithographica
Name Meaning: Ancient Feather
Diet: Carnivore
Length: 0.5-0.6 meters (1.6-2 feet)
Time Period: Late Jurassic
Classification: Avialae --> Archaeopterygidae
Place Found: Germany
Describer: Meyer, 1861
Dinosaur King Statistics
Edit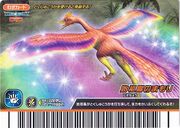 Oddly, Archaeopteryx's arcade nickname is also it's Chinese name.
Community content is available under
CC-BY-SA
unless otherwise noted.