Aqua Whip (Flood Strap in the Japanese arcade) is a Water Move Card.
Statistics
Edit
It is the first Attack Move for Water and was the first Water Move released.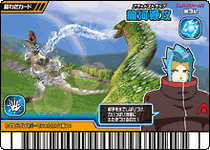 Names

Japanese Kanji: 龍河鞭攻
Taiwanese: 水龍神鞭 (Water Dragon Whip)

Sign: Paper
Power boost: 200 (Non-Critical); 300 (Critical)
Technique boost: 50
Usage Condition: This Move activates when you win with Paper.
Effect: Shoot a lasso of water from your mouth to grab your opponent, then swing them around and smash them into the ground!
Japanese
English
Taiwanese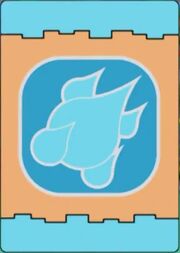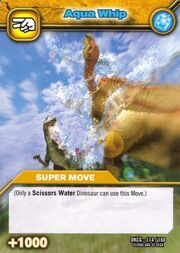 +1000; (Only a Scissors Water Dinosaur can use this Move.)
Artwork from its various arcade cards is also seen on the TCG Move Cards Acid Rain (3rd) and Drowning Deluge (5th).
This was the first Water Move Card created by Sega.
Community content is available under
CC-BY-SA
unless otherwise noted.