Spectral Armor Anchiceratops is an armored version of Anchiceratops used by the Space Pirates when under their control.
Statistics
Anime Stats
TCG Stats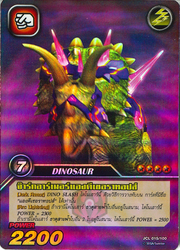 Anime
Mesozoic Meltdown
Gabbro used this form alongside Gigas to battle against Chomp, Ace, and Paris in their DinoTector forms. Chomp tossed Anchiceratops over to fight a bit with Paris, but it was soon defeated by Chomp's Thunder Driver, destroying its Spectral Armor. Max presumably reclaimed its original card.
Trivia
Due to its unusually short tail, Anchiceratops only has one single-spiked plate of armor on its tail, as opposed to the standard two for other Lightning Dinosaurs' Spectral Armor (as seen below).
Gallery