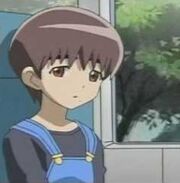 Amy (voiced by veronica taylor) is a girl from the same school as the D-Team kids.
Character Design
Amy has Short dark hair with fair skin and brown eyes, she wears a nany sweater under a blue jumpsuit. white stockings and maroon trainers.
Personality
Amy is very timid, though very fond of lizards. Amy had never had any friends until she met Euoplocephalus.
Anime
Her class goes on a field trip to the Limestone Cave in No Free Lunch. After wandering away from the class, she finds and befriends the Euoplocephalus. Later she finds a lizard and keeps it as a pet, naming it Euoploc (Hannah the Third in the English dub).