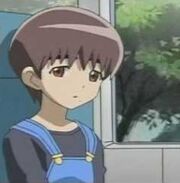 Amy is a girl from the same school as the D-Team kids.
Character Design
Edit
Personality
Edit
Amy is very timid, though very fond of lizards. Amy had never had any friends until she met Euoplocephalus.
Her class goes on a field trip to the Limestone Cave in No Free Lunch. After wandering away from the class, she finds and befriends the Euoplocephalus. Later she finds a lizard and keeps it as a pet, naming it Euoploc (Hannah the Third in the English dub).