Alpha Darts (also Throb! ACT Darts!) is a Normal Move Card which was only available in the Japanese arcade.
Statistics
Edit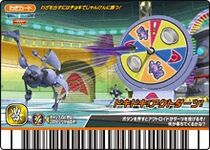 Attribute: Normal
Sign: Scissors
Usage Condition: This Move activates when you win with Scissors after the icon "!" has appeared.
Effect: An Actroid throws a dart at a rotating dartboard in time with your button press! One of various objects will fall onto your opponent's head depending on what you hit: a large metal bowl, a Dino Stuffer Alpha plushie, a Kakutoroid, or a large Dinoman statue!
It was only available in the Japanese arcade.
The effect of this Move is based around a large metal bowl dropping from above and hitting someone on the head, a staple gag of Japanese slapstick also seen in Ninja Nightmare!, but expanded to include other objects as well.

The total list of options on the dartboard are: 2 metal bowls (for the metal bowl), 2 Alpha Gang symbols (for the Kakutoroid), 2 Dino Stuffer-made plushies (for the Alpha Dinosaur toy), and a single skinny section with an exclamation mark (for the Dinoman statue).
Community content is available under
CC-BY-SA
unless otherwise noted.