Alpha Darts (also Throb! ACT Darts!) is a Normal Move Card which was only available in the Japanese arcade.
Statistics
Edit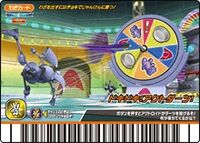 Attribute: Normal
Sign: Scissors
Usage Condition: This Move activates when you win with Scissors after the icon "!" has appeared.
Effect: An Actroid throws a dart at a rotating dart board! One of various possible special functions will happen depending on what you hit!
It was only available in the Japanese arcade.
Though not enough arcade footage is currently available online to confirm all of its effects, one promotional animation clip shows a large metal bowl dropping from the sky/ceiling and hitting the opposing dinosaur on the head, a staple gag of Japanese slapstick. The translated effect from the arcade website implies that something will always be falling.

The total list of options seen on card artwork are: 2 metal bowls, 2 Dino Stuffer-made plushies, 2 Alpha Gang symbols, and a single skinny section with an exclamation mark. What specifically they all mean is unclear.
Community content is available under
CC-BY-SA
unless otherwise noted.