ACT Missile (ACT Missile アクトミサイル; would likely be called Alpha Missile if it had an English version) is a Normal Move Card. It was only available in the Japanese arcade.
Statistics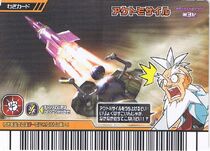 Attribute: Normal
Sign: Rock
Usage Condition: This Move activates when you win with Rock after the icon "!" has appeared.
Effect: Instead of attacking this turn, an Actroid launches a giant missile into the air. A random number of turns later, it will fly down, crashing at your opponent's feet and exploding!
It was only available in Japanese arcade.
Trivia
Whether this Move's duration is truly random or influenced by the user's Technique is unclear.
Gallery